Happy New Year Everyone! I love a new year, it gets me excited for what's ahead for the year.  It's also a good time to think about that year's travel and where you want to go, and of course, a good time, to start looking at the best deals out there for your passions.
For me, that includes Wine Tasting, and wine exploring all the great California Wine Regions.  With that being said, during the winter months, there's often some great passport programs available to help make the most of your wine exploration!
The winter is a GREAT time to go wine tasting too because the tasting rooms are a lot less crowded, giving you a more one on one experience with your wine tasting: truly a win-win! This is the time of the year when you will find me in the tasting rooms!
So, with that being said: Here's some GREAT Passport Programs Happening Now to Get you PSYCHED for the Year ahead:
Calistoga's: Winter in the Wineries Passport:
Truly! This is the best Winter Deal: This has become an annual tradition in Calistoga.  I've participated in this passport program the previous 2 years, and loved it.
Calistoga is the northern most town of the Napa Valley, their main street has adorable tasting rooms and boutiques to shop in, along with great restaurants and inns.  Also, if you've ever wanted to experience a mud bath, you come to Calistoga to do so!
But with that being said, this passport program is a great deal: From December 3 through February 5, your passport will give you tasting flights at 15 Tasting Rooms throughout the Calistoga area for only 50 dollars! YES: Only 50 Dollars! You get your money back by your third tasting! Every year the Tasting Rooms are a little bit different but this year includes tastings at: Castello Di Amorosa, Chateau Montelena, Maldonado, Fairwinds Estate, August Briggs, Lava Vine, Laura Michael, T-Vine, and many more tasting rooms and wineries in the area!
Along with the 15 Tasting Rooms, they also have discounts at Downtown Calistoga Restaurants, Shops and Inns in the area making it the perfect getaway escape!
Saint Helena's Little Book of Big Experiences:
So, this passport program started this past November and goes all the way through March 2017!  For just 100 Dollars, you get 25 different experiences that include wine tastings, foodie experiences, and discounts on inns in the area!
Tasting experiences include top spots such as: Freemark Abbey, Charles Krug, Beringer, and many more experiences. A full list of the experiences can be found here.  These are truly one of kind experiences, and St. Helena has truly pulled out ALL the stops in this passport program!
Truthfully: This is the passport I'm supporting this year because of the incredible experiences available, and for me to explore more of the Saint Helena area!
Sonoma Passport 2017: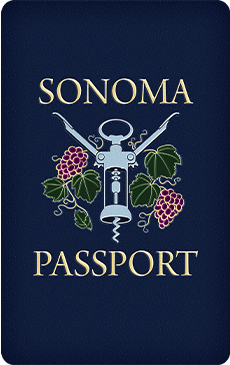 The start of the year is ALWAYS a great time to buy a year-long passport, especially if you do a lot of wine tasting, and frequent an area often.
That's why the Sonoma Passport is worth it: For just 59 dollars, this passport lasts an entire year!  So, if you purchase now, you have 12 months of use, talk about a GREAT deal.
The passport includes 2 for 1 tastings at many local wineries in the area, along with discounts on bottle purchases.  And there are some complimentary tastings in the passport, as well.  A great investment, especially if you're a couple!  You just need to buy one passport for two.
Do a Downtown Napa Wine Tasting Card:
If you are headed to Napa for a weekend getaway, or even longer, purchasing the Downtown Wine Tasting Card is a great deal to have in your back pocket: For just 15 Dollars, this wine tasting card will get you tastings for 1/2 off in all 12 of the Napa Tasting Rooms in Downtown! This tasting card lasts the entire year too!
Park the car at your Downtown Inn, and walk through the tasting rooms of Downtown in a safe and casual way!  Plus, shop at the adorable boutiques along the way, and enjoy some of the great restaurants in the area while saving over 150 Dollars in savings.
Sometimes, when doing your research, you run across a GREAT deal, and often times, great inns in an area will offer complimentary tasting cards or passports during your stay.  This is the EXACT case when you book with the Russian River Inns, upon booking, you will receive a complimentary tasting card/passport to over 120 wineries in the area.  Talk about a GREAT deal, and the perfect excuse for a nice getaway in 2017.
Sonoma County's Wine Road has great events throughout the year include: Winter Wineland, Barrel Tasting Weekends, and their November Wine and Food Affair event.
However, throughout the year, they also have a 1 Day (30 Dollars) or 3 Day Tasting Ticket (60 dollars) to the Wine Road Wineries and Tasting Rooms that will offer you complimentary tastings and/or discounts with these tickets.
Just keep in mind when purchasing these tickets that you may need to make separate tasting appointments for the wineries you want to visit during your stay. Also, pay close attention to the blackout dates where these tickets won't be accommodated. BUT, this is highly recommended when planning a vacation getaway to Sonoma County!